Market Hall of Fehérvári Street
The market hall of Fehérvári Street is located at the terminus of tram 4 and M4 Újbuda Center Station. As a modern market hall its exterior differs very much from that of Central Market Hall. No wonder since it was built 100 years later as a small functional market, in 1977. It was designed by György Halmos, who created a multi-level pyramid-like marketplace with open terraces on every level. This design exposed both vendors and customers to bad weather. Stalls were simple structures with vulnerable canvas covers, stairs were narrow and only the two lowest levels were connected by ramps. These issues called for remodeling soon. György Halmos wished to redesign the building himself. Although he got the assignment, later disputes about the construction led to his disengagement from the project.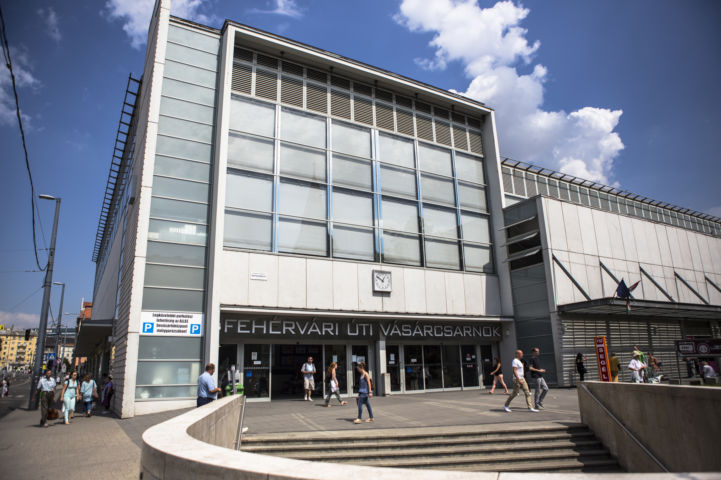 At the beginning of 2000s, a new designer, Tibor András Kertész was chosen through tender. Remodeling had started and the market hall changed a lot, however, the pyramid structure remained as it gained a listed status as a piece of industrial monument. Most importantly, the hall got covered as well as glass walls and escalators made it friendlier. In 2009, it was extended, and actually, the original building got enclosed. The new market hall of Újbuda has become a quite simple and modern 4-storey building of 1,100 sqm with 74 booths for vendors and 100 stalls for farmers.
Photo:

funiQ

Photo:

funiQ

Photo:

funiQ

Photo:

funiQ
Level -1 is the source of fruits and vegetables as well as bakery products, home-made cookies and wine. The ground floor is the "perfumery" of the whole market with a row of stalls for seasonal flowers and spices. Level 1 is for farmers and butchers but mushroom inspection also takes place there. Level 2 tempts the hungry with various street foods. The market hall has a great location with good access to public transport and it is wheelchair accessible.
Recommended tours
A tour in the heart of Újbuda A walk around the cultural center of South Buda answers how a building was named after 500 silver coins or how a church still in use today was built on the first floor of another building, or how youngsters had fun at the Park Stage of Buda.
Discovering underground line M4 Underground line 4 has brought elegance and style to the world of underground transport in Budapest. Contemporary architecture makes everyday commutes an artistic experience for locals. Surface level attractions will also be discovered during the tour.