Brázay-KalandPart, Balatonfüred
Located between the Esterházy and the Kisfaludy beaches, the Brázay-KalandPart, besides being a beach, adds the adventure park element to the mix for more fun.
It's just the ultimate summer experience when you walk on the rope bridge above the people sunbathing or when you climb willow to willow above Balaton.
The park has an 18 part course for the children and a 67 part course for adults.
Opening times
Every day from 9:00 till dark
Adventure park prices
Rope course
Adult: 1 990 Ft/hour
Children: 990 Ft/hour
Trampoline: 500 Ft/5 minutes Air castle: 500 Ft/10 minutes Monkey tree: 500 Ft/2 climbs Crate building: 500 Ft/15 minutes Table tennis: 500 Ft/hour Table football: 100 Ft/10 balls
Beach prices
Daily ticket
Adult: 550 Ft
Children: 350 Ft
Seasonal pass
Adult: 10 000 Ft
Children: 8 000 Ft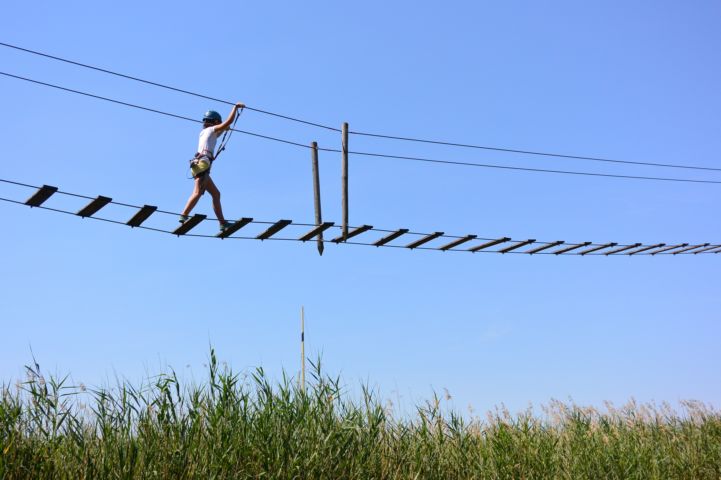 Rope track above the beach of Brázay-Kalandpart

Photo:

funiQ

Entrance of the Brázay-Kalandpart

Photo:

funiQ

Part of the Brázay-KalandPart

Photo:

funiQ

Children track in the Brázay-Kalandpart

Photo:

funiQ
Contact
Address: 8230 Balatonfüred, Aranyhíd sétány Tel: +36 70 524 7700 E-mail: gabor.antman@gmail.com Website: www.kalandpart-fured.hu