A tour in the heart of Újbuda
Download track as GPX file for your GPS device.
| | |
| --- | --- |
| Össz. emelkedő: | 33 m |
| Össz. lejtő: | -33 m |
| | |
| --- | --- |
| Magasság max.: | 123 m |
| Magasság min.: | 99 m |
Start: St Gellért Square
How to get there:
by car: parking in front of University of Technology and Economics
by public transport: underground: M4; tram: 19, 41, 47, 47B, 48, 49, 56, 56A ; bus: 7, 133E; boat: D11, D12
A walk around the cultural center of South Buda giving answers to questions like how a building was named after 500 silver coins or how a church still in use today was built on the first floor of another building, or how youngsters had fun at the Park Stage of Buda.
We are in New Buda where, even at the end of the 19th century, vineyards lied on Gellért Hill or ducks were hunted where the Technical University is situated today. The Circus (Móricz Zsigmond Square) or Bartók Béla Street were just in plans to replace the muddy country road. As an old description says "Lágymányos and the whole of Kelenföld was a land of empty plots, large vineyards, fields and wetlands. When Liberty Bridge (earlier called Ferenc József Bridge) was opened in 1896, the Buda side faced a small acacia grove with a tiny yellow house in the middle surrounded by some rickety buildings of Muddy Bath. Later that was where Gellért Spa was built. The area of Technical University buildings used to be the dumping ground of the capital." (dr. Jenő Kismarty-Lechner, 1961)
As years were passing by, the area was changing continuously and today we wish the buildings could talk. Actually, they can. Our trip will let some of them speak and tell how a building was named after 500 silver coins or how a church still in use today was built on the first floor of another, or how a legendary movie theatre was transformed into a trendy hamburger place.
Bartók Béla Street is recently becoming more and more popular and by today it has earned to be called as the street of culture. Art galleries were established in empty buildings, cafés provide a cozy ambience to enjoy our coffee and we can even have an insight into an old photo studio. A vivid cultural life is forming there supported by various events and committed locals.
We will even reach beyond this lively street and explore Villányi Street, the Bottomless Lake, Bocskai Street, Bercsényi Street and Műegyetem Quay, as well, ending our trip at our starting point, on St Gellért Square.
Routeplan
With the Danube behind our back we will start our trip on the left of St Gellért Square, in a corner building with the sign "PALACK Borbár". This is the Eravisci House, a building with a mysterious name and formerly a gathering place for university students.
Eravisci House The palace was home to the Technical University Café, a restaurant and a beerhouse from 1905. At the time it was the gathering place for Technical University students and teachers. Today it hosts Palack Wine Bar.
Crossing Bartók Béla Street we will stop at number 17-19, a former military dorm with a huge and peaceful inner yard and something special on the first floor.
St Imre Dormitory St Imre Dormitory used to accommodate military students. Its first floor is host to an old chapel, still in use, since the building was planned to be a church. Today the 5-level building functions as a residence hall for students of Budapest Technical University, Transportation Engineering Faculty.
Number 25 is home to Faur Zsófi Gallery. A modern art gallery with contemporary photo exhibitions. Most importantly, a pioneer in the cooperation of galleries and individuals for making Bartók Béla Street a place of vivid cultural life.
Faur Zsófi Gallery Bartók Béla Street transformed into a cultural center over the past decade. Several galleries and studios opened in formerly empty shops. Zsófi Faur Gallery is aimed to promote Hungarian contemporary art and provide an exhibition area for artists.
Reaching Gárdonyi Square we can see the Géza Gárdonyi Statue, and then continue to Gyula Lechner House at 40 Bartók Béla Street next to Hadik Café and Szatyor Bar. Two brothers: Gyula Lechner, the client, and Ödön Lechner, the designer. The house was built when Bartók Béla Street was just a dirty country road with ducks and a wetland around. Several distinctive features by the master of Hungarian Secession are displayed on the building.
Gyula Lechner House The father of Hungarian Secession, Ödön Lechner designed a house for his brother, Gyula. The windows with brick framework, ornamental chimney decoration, curtain or segmental arches, the typically Hungarian style iron bars in the stairway are each distinctive elements of Lechner's style.
A giant leap over Móricz Zsigmond Square and the Mushroom takes us to 62-64 Bartók Béla Street, the former site of Bartók Cinema (earlier Simplon Movie). It was a trendy place with movie premiers attracting fans from all over the city. Today we can take a rest in a new-wave café here.
Bartók Cinema Simplon Cinema, the most modern movie theatre of South Buda opened in 1910, later renamed as Bartók Cinema. When opened, it served as movie theatre for silent movies and a stage for revues. It was shut down in 1998 and later reopened as a restaurant and coffee shop.
Our next station is in Villányi Street, an elegant palace-like building at 5-7 Villányi Street. This is the renowned St Margaret High School established in 1932 as an all-girls high school.
St Margit High School St Margaret High School is an all-girls school founded in 1920. The construction of the current neobaroque school building designed by Dr. Gáspár Fábián began in 1930 and finished in 1932. After WW2 the school was renamed more times and religious education restarted only in 1996.
Walking on Villányi Street it is easy to spot the yellow, twin-towered church that appears on the flag of New Buda too. This is St Imre Church, with the high school next to, both under the management of Cistercian Order at 25 Villányi Street.
St Imre Church The Cistercian St. Imre Church of Buda is located in the center of District 11. Its signature towers even appear in the logo of Újbuda. The neobaroque church with the Lake Feneketlen in front is a marvelous sight in South Buda. Besides holy masses the church hosts exhibitions and concerts as well.
Cistercian St Imre High School of Budapest An old dream of Cistercians came true when supported by the Zirc Abbey they purchased a site on Villányi Street at the Lake Feneketlen to build their own high school building, church and cloister. Only the first two ambitions were fulfilled and the new school was completed in 1929.
Crossing the street to Bottomless Lake, we will find a once legendary venue for theatre performances, concerts, movie events and memorable summer nights from the early 1950s. Park Stage of Buda was one of the oldest and renowned open-air stages in the city that reopened in 2015 with partly different functions.
Park Stage of Buda Bartók Stage later renamed to Park Stage of Buda opened in 1958 as an open-air theatre and concert venue seating over 2200 viewers of operettas, varieties and concerts. After 10 years of hiatus it reopened in 2015 under New Buda Park Stage name.
Lake Feneketlen and surroundings The underground spring that fed the Lake for a century was detected in 1877 while mining clay for a brickyard next to. Today the Lake Feneketlen and its surroundings are a popular recreational area with a modern playground as well as the restaurant and community area of the Park Stage of Új Buda.
Crossing Kosztolányi Dezső Square on the other side of Lake Feneketlen take Bocskai Street. The next station is the Evangelist Church of Kelenföld at number 10 with a 31-meter high tower by János Schulek, son of Frigyes Schulek. It was built in Romanesque Revival style with several Hungarian motives.
Evangelist Church of Kelenföld Local evangelicals had longed for a church nearby, however, WW1 delayed their plans and construction began only in 1925. Planning was assigned to János Schulek, son of Frigyes Schulek, architect of Fisherman's Bastion.
At the terminus of Tram 4 (Újbuda-Center) you will find the Reformed Church with its distinctive reinforced concrete and rumble stone cover. Just by contrast the modern style Market Hall stands on the other side of the street. Four floors for food shopping with farmers and flower vendors downstairs.
Market Hall of Fehérvári Street The market hall of Fehérvári Street opened in 1977. The multi-storey building used to be a pyramid-like open-air market designed by György Halmos. The building exposed to weather was remodeled and covered in the 2000s, turning it into a modern market hall.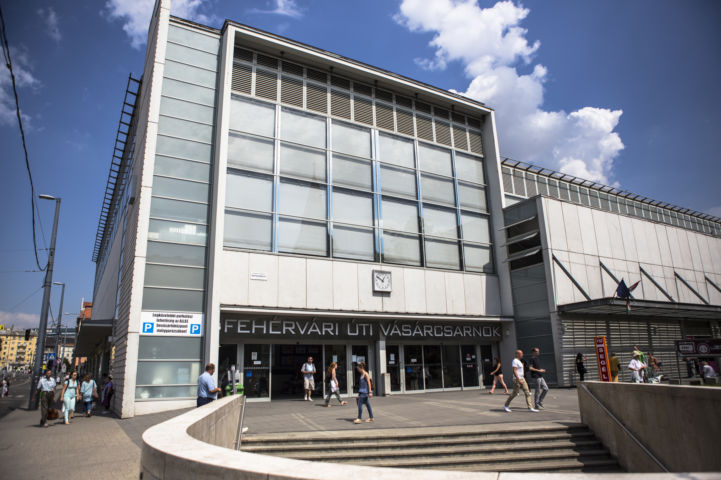 Passing Allée and turning left you will proceed to the university quarter along Bercsényi Street and Bertalan Lajos Street and reach Műegyetem Quay. The last station of the tour is inside BME "K", that is central building, in a 10 meters by 14 meters black box. Szkéné Theatre here is a cultural forum with alternative performances and great theatre companies.
Szkéné Theatre Szkéné Theatre is located on the 2nd floor of Central ("K") Building of Budapest Technical University. Its predecessor, the Literary Stage of Technical University was founded in 1961 by István Keleti. They had 2 classrooms for rehearsals and performances. A new theatre was built in 1970.
Finally, as you pass the first building of the university campus, the home to the Faculty of Chemical Engineering, the CH building you will arrive back where the tour started in St Gellért Square.