Móricz Zsigmond Square Station
Opening underground line 4 finally allowed for the completion of renovation works in Móricz Zsigmond Square that started much earlier and the square could fulfill its function as an important intersection of various public transport services again. Eras in the history of the square are represented by iconic buildings and attractions, such as the Mushroom, the sculpture of the eponym, the arched Gregersen row house behind the Mushroom and the St Imre sculpture group.
Móricz Zsigmond Square Móricz Zsigmond Square is one of the most important intersections of Budapest. The most distinctive building on the square, nicknamed as the Mushroom, used to function as a tram loop. By today it has been transformed into cafés and a customer service center of the Budapest Public Transport Company.
The lively and colorful station has soon become popular. A wide spectrum of colors makes it like a playroom for kids. Just like in other stations LED lights on the edge of platforms indicate the arrival and the direction of trains.
The entrance has a space-saving design and matches the slanting square.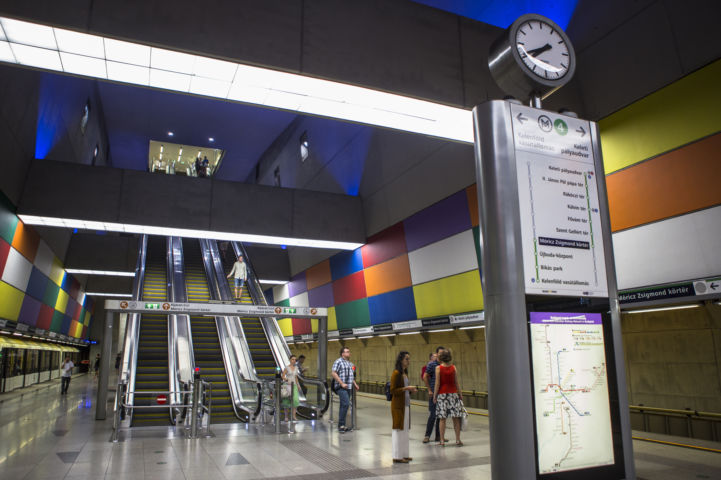 Vertical airshafts at both ends of the station help to preserve your hairdo because it diverts wind generated by the trains.
Photo:

funiQ

Photo:

funiQ

Photo:

funiQ

Photo:

funiQ

Photo:

funiQ
Here, in this station it was not needed to form separate levels to reach the platforms so 6 single long escalators take passengers to the trains. A skylight was also installed to provide natural light.
Recommended tours
Discovering underground line M4 Underground line 4 has brought elegance and style to the world of underground transport in Budapest. Contemporary architecture makes everyday commutes an artistic experience for locals. Surface level attractions will also be discovered during the tour.